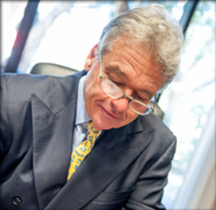 Mark S. Gold, M.D.  is Professor (Adjunct), Washington University in St Louis, School of Medicine, Department of Psychiatry, and National Council, Washington University in St. Louis, School of Medicine, Institute for Public Health. He served as Professor, the Donald Dizney Eminent Scholar, Distinguished Professor and Chair of Psychiatry from 1990-2014.
Dr. Gold was the first Faculty from the College of Medicine to be selected as a University-wide Distinguished Alumni Professor and served as the 17th University of Florida's Distinguished Alumni Professor. Prior to assuming the position as Chair, he was a Distinguished Service Professor in the Departments of Psychiatry, Neuroscience, Anesthesiology, and Community Health and Family Medicine at the University of Florida College of Medicine.
Dr Gold is also a member of the McKnight Brain Institute and a Founder of the U.F. Center for Alcohol and Drug Research and Education (CARE), Adjunct, Clinical Professor in the Departments of Psychiatry & Behavioral Science at the University of Southern California's Keck School of Medicine, a Distinguished Fellow of the American Society of Addiction Medicine (DFASAM), and on March 5th, 2015, Dr. Gold became the Director of Research, Drug Enforcement Administration (DEA) Educational Foundation working on global drug use, abuse and addiction problems and solutions.
Dr. Gold was actively involved in the Brain Institute's evolution from an idea to reality. He was the first Faculty in the Division of Addiction Medicine and the first Chief of the Addiction Medicine at the University of Florida College of Medicine.
"Dr. Mark Gold, a pioneering research expert in addiction and treatment" ~ Buzz Feed July – 2018
---
Addiction Hope Virtual Conference II: From Dependence to Recovery "New Insights on Gaming Addiction, Opioid Abuse, and How to Find Freedoms" – September 20, 2018
"Sugar, Food, Gambling, Video Gamers: Process and Behavioral Addictions: What Do We Know in 2018"
Description:
Drug use, abuse, and dependence have been easier to study than most Psychiatric diseases because of advances in neuroscience. Allowing rodents, non-human primates, and man to self-administer drugs of abuse in a laboratory setting has provided ample evidence that first use may be voluntary but that addiction is a disease of the brain.
Similarities between the brains of rodents, non-human primates, and man have allowed us to discover where in the brain drugs go, how they interact with the brain's reinforcement system, how they produce physical dependence, how they cause withdrawal and other major findings.
We also could understand how cocaine and other drugs that did not have prominent abstinence syndromes were actually addicting and how behaviors like eating and gambling and gaming and sex could be addicting. The dopamine hypothesis, born in the '80s would eventually be tested in animals and man using new and powerful brain imaging technologies.
While behavioral addictions make neurobiological sense, look and act like other addictions there are differences. Drugs like cocaine are incredibly powerful and hard to ignore. Food, sugar, sex, gambling, and related behaviors are treatment has been difficult.
Addiction was, after all, a complex disease of mind-body-soul which could be modeled in animals but animal addicts were not human addicts. Depression and addiction often occur in the same people at the same time.
Which comes first has been debated but most of the evidence supports the idea that drugs of abuse hijack and also change the brain in ways that are not easily reversed. Drugs by targeting the brains pleasure-euphoria system can compromise this system and change the brain's reward threshold and experience of pleasure.
Learning objectives:
The learner will be able to review the brains reinforcement system, physical dependence, and withdrawal symptoms in addiction.
The learner will be able to describe the dopamine hypothesis and brain imaging technologies related to addiction.
The learner will be able to identify gaming addiction symptoms, triggers and behaviors.
---
Eating Disorder Hope Online Conference II: Anorexia Hope & Healing in 2018 – May 17, 2018
"AN, BN, BED, Food Addiction–Alcohol and Drug Abuse"
---
Addiction Hope's Inaugural Online Conference – January 24, 2018
"Drugs Change The Brain and Create Dual Disorders"
"Drugs Change The Brain and Create Dual Disorders"
with Mark S. Gold, M.D.
Description: Many prominent experts in addiction psychiatry have advanced the theory of self-medication to explain why a person might become cocaine or opioid dependent user or alcoholic. Self-medication may help explain children of cigarette smokers frequently finding cigarettes rewarding. But, it also may explain why depressed or Schizophrenic patients are often smokers as well. Children of alcoholics are another example. What the person brings to the drug challenge is complicated and often times ignored. My 40+ years of addiction research has not focused on this theory, but on the drug-brain -receptor reactions. The most obvious drug-brain neurotoxicity can be seen with methamphetamine. We have reported on studies in animals and man which show that methamphetamine changes the brain and can produce a number of important changes including those normally seen after a concussion. We have shown that drugs of abuse, depending on the route of use, dose, duration, and other factors change the brain. Some of the changes appear to be reversible. Others may not. Drugs can change the brain and induce changes which make use feel imperative. In post addiction and recovery programs, depression, sleep, appetite, sexual, anxiety, concentration, memory and other very real problems emerge. Some are due to drug-induced psychiatric diseases which looks like naturally occurring illnesses. Diagnosis and treatment of co-morbid disease are essential and often times can promote long-term sobriety and recovery.
Learning Objectives:
The Learner will be able to review the self-medication hypothesis, data which support this hypothesis and the Gold hypothesis on drug-induced neurotoxicity.
The learner will be able to describe alcohol and depression as an example where separating the drug or alcohol's short-term effects and the persistent effects is the key to diagnosis.
The learner will be able to list Therapies, Medications, and Neuromodulation are all being employed to help reverse drug-induced neurotoxicity.
---
Dr. Mark Gold Awarded PATH Foundation NY Lifetime Achievement Award
---
Quotes About Mark S. Gold, M.D.
Mark S. Gold, M.D. is the most prolific and brilliant of the addiction experts writing today. Dr. Gold has spent his career trying to bridge the gap in medical education and practice with the belief that addictions are diseases and that all physicians have a critical role in prevention and, if that fails, in early identification and prompt treatment. – Journal of the American Medical Association (JAMA)
Mark Gold, MD is an internationally renowned expert on obesity and human energy requirements. – American Society of Bariatric Physicians
Since Dr. Mark Gold's career in translational research began in the early 1970s, his work has laid the foundation for others who followed in addiction research. – American Society of Addiction Medicine
Dr. Gold is recognized as a leading expert on addictions, overeating, and intervention risk-benefits and is "a prominent addiction researcher." – The Wall Street Journal
---
Distinguished Alumnus Awards:
University of Florida, 1984
Washington University, 1989
Yale University, 2008
University of Florida Alumni Distinguished Professor (2011-2013)