Crisis Line & Help Line
National Suicide Prevention Lifeline
Are you in crisis? Call 1-800-273-TALK (24 HOUR CRISIS LINE)
TEXT the Crisis Text Line (text HELLO to 741741)
Both services are free and available 24 hours a day, seven days a week. The deaf and hard of hearing can contact the Lifeline via TTY at 800-799-4889. All calls are confidential.
Are you feeling desperate, alone or hopeless?  Call the National Suicide Prevention Lifeline at 1-800-273-TALK (8255), a free, 24-hour hotline available to anyone in suicidal crisis or emotional distress. Your call will be routed to the nearest crisis center to you.  Call for yourself or someone you care about.  Free and confidential.  A network of more than 140 crisis centers nationwide. Available 24/7.  Seek help as soon as possible by contacting a mental health professional or by calling the National Suicide Prevention Lifeline at 1-800-273-TALK if you or someone you know exhibits any of the following signs:
Threatening to hurt or kill oneself or talking about wanting to hurt or kill oneself
Looking for ways to kill oneself by seeking access to firearms, available pills, or other means
Talking or writing about death, dying, or suicide when these actions are out of the ordinary for the person?
Feeling hopeless
Feeling rage or uncontrolled anger or seeking revenge
Acting reckless or engaging in risky activities – seemingly without thinking
Feeling trapped – like there's no way out
Increasing alcohol or drug use
Withdrawing from friends, family, and society
Feeling anxious, agitated, or unable to sleep or sleeping all the time
Experiencing dramatic mood changes
Seeing no reason for living or having no sense of purpose in life
---
Treatment Centers Available to Help You Now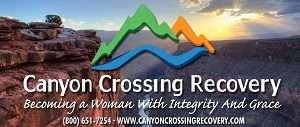 Canyon Crossing Recovery is a women's structured transitional living facility coupled with an outpatient addiction program. We believe that structured transitional living combined with an intensive outpatient element allow the women of Canyon Crossing Recovery to be in the best possible position to achieve long term sobriety. Call us today at 800-651-7254.
Learn More about Canyon Crossing Recovery *If you need help immediately please call your local emergency room, or #911.
---